▷Is Epoxy Flooring Good for Basements In San Diego?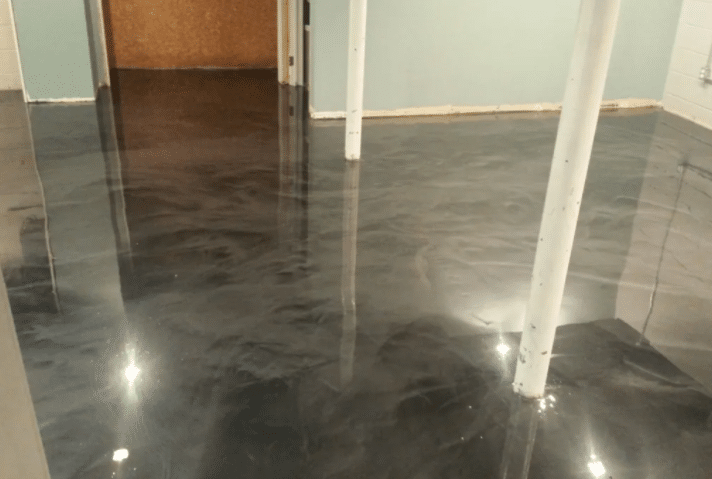 Is Epoxy Flooring Good for Basements In San Diego?
Epoxy flooring in basements has several benefits, including waterproofing, providing a unique set of obstacles. Epoxy flooring may be the correct choice for you if you need to remodel your basement and want a long-lasting, resilient, and watertight solution.
For basement floors, having the correct flooring option is critical. Epoxy flooring is a resinous substance that, when properly prepared, adheres to concrete. Basement flooring requires a moisture vapor barrier to be more resistant to the wetness that is so common in basements.
We've done hundreds of epoxy basement flooring and understand what it takes to provide a long-lasting solution. Epoxy floor solutions differ from basement floor paint, which is prone to peeling and offers little long-term durability.
Starting with "how it works," we'll present additional information on how basement floor epoxy coating systems function in this post. Let's get started.
How Epoxy Flooring For Basements Works
To successfully install an epoxy floor anyplace, the concrete must first be diamond ground so that the epoxy and moisture vapor barrier can attach to it. As a result, we'll have to move our machines into the basement. Because industrial grinding machines weigh more than 1,000 pounds, this is something to consider. Is your basement easily accessible, or will the machines have to be transported downstairs? This is a major stumbling block for many basement flooring. The chemical odor is the next item on the list. Selecting the correct items and ensuring that the basement has adequate ventilation is critical. While the epoxy chemical is being applied, we normally recommend shutting off the HVAC. While epoxy flooring applications in basements provide unique problems not seen in other forms of flooring, they might also be the finest option for the task. All you need is an epoxy flooring contractor with a lot of expertise.
Epoxy is used in millions of homes and businesses because of its unique properties that improve the appearance of concrete. It comes as a resin and a chemical hardener that must be blended according to the manufacturer's instructions. A chemical reaction cures the fluid, forming a hard coating on the floor surface. Garages, kitchens, hospitals, schools, and industrial settings are all common places. This form of flooring is just as effective as a basement flooring option. 
Should You Get An Epoxy Floor In Your Basement?
Offers Durable Surfaces
One of the main reasons epoxy is used for most concrete refinishing is its durability. With a single installation, you can enjoy a good-looking floor for decades without worrying about renovations. When you compare epoxy to other flooring options, you'll see that epoxy provides better long-term value. It's not only long-lasting, but it also requires little upkeep over time. Epoxy flooring is the best choice for your basement if you want an extremely durable floor surface that can withstand a lot of foot traffic.
Protects Against Water Seepage
Basements that are not adequately sealed are prone to leaking moisture into the foundation, necessitating the use of a waterproofing solution. Because of the wetness, moisture may contribute to the degradation of a home and make it a disease-prone environment. It's vital that you protect your basement against water seeping in through the foundation. Epoxy is one of those flooring choices that you can rely on to keep moisture out of your home.
When the epoxy cures and hardens, it creates a durable plastic surface with densely knit links that prevent moisture from escaping. Moisture that collects at the bottom of your foundation will stay there, as will any spillages that occur on top.
Doesn't Harbor Mold Or Mildew
You won't have mold or mildew issues since epoxy does not let moisture leak into your property. These two are more likely to grow and thrive in a moist environment. If put properly, epoxy does not produce such an atmosphere. Those who have a foundation that needs to be under proofed should make sure the downspouts are facing away from the building's foundation, and that sufficient drainage is in place, including in the gutters. Contact us today at Concrete Polishing Solutions for concrete polishing services.
Offers Beautiful Floors
Epoxy flooring may completely modify the appearance of your basement floor. Metallic epoxy, flakes, terrazzo, quartz, and solid hues are just a few of the various colors available in epoxy. If your basement is gloomy, utilize bright colors, patterns, and ideas to bring in natural light and save money on your utility bill. You may incorporate your brand's colors if it's a home office. Epoxy can virtually imitate any other floor type if you employ a quality flooring specialist.
An Easy To Clean And Maintain Floor Surface
Epoxy is an excellent flooring choice for all sorts of floor surfaces that are prone to filth and grime accumulation. Whether you're using your basement for storage, an office, or a children's playroom, you'll have an easy-to-clean and maintain floor. This sort of flooring does not collect or hold dirt. Even if your basement acquires dust due to unavoidable circumstances, you may restore its previous form with a broom, vacuuming machine, or dust mop. To remove really tenacious stains, the most comprehensive cleaning method is to use a light soap, a mop, and water. You may perform a variety of things to keep your epoxy floor in good repair, including:
Alternatives To Epoxy Basement Floors
Epoxy Coating
Durable, waterproof, no mold.
Stained Concrete
Easy to maintain, needs to be resealed every so often.
Polished Concrete
Extremely durable, natural.
Carpet
It can get moldy, hard to maintain.
Vinyl Plank Flooring
Low cost, can buckle with moisture.
The Challenges You Should Expect With Epoxy Flooring For Basements
Epoxy is a high-performance substance, but only if correctly put. Poor installation might result in various issues that can lead to disappointment. It won't work well, won't look as nice, will need to be replaced, and will be difficult to remove once put. This means you'll need to hire specialists to help with the installation, especially if it's for your basement floor. The following are some of the most prevalent problems caused by improperly put epoxy:
Peeling is a problem that happens when epoxy is placed on a floor in direct sunlight or when the temperature is too low, as it is in most basements. This can also happen if the concrete surface has been improperly prepared, with oil, grease, and debris left on it.
Moisture Bubbles Form Beneath Your Installation — Your floor isn't completely dry before installation. If your concrete has been etched, clean it well and wait at least 24 hours before applying the epoxy. Good contractors know how to dry their sites to prevent extended wait. Your contractor should also do a moisture test to see if epoxy might benefit your basement.
Underneath Your Installation, Air Bubbles Form – The most common reason for air bubbles under your epoxy installation is that it was installed in direct sunlight in a chilly location or that the surface wasn't adequately prepared. That's why, before application, we examine the project to ensure that all of these difficulties are addressed. We utilize a polyaspartic rather than a standard cure epoxy in cold weather.
Color Inconsistency – Expect your floor to have an uneven color if the mixing procedure is not done completely. This can also be caused by an oil and grease-stained concrete floor that hasn't been properly prepared.
The majority of issues with epoxy for basement flooring are caused by poor craftsmanship. Those who fall prey to this scheme try to save money by doing the task themselves, but they fail miserably. This may be prevented by enlisting the help of experts. Even if your floor was just placed, a flooring specialist would recognize the need to properly prepare it. They will also utilize high-quality materials and appropriately apply them.
Basement Floors Benefit From Epoxy However, You Should Choose A Flooring Professional
The final truth is that epoxy is an excellent basement flooring option. It can help with water and mold concerns if installed with a vapor barrier. It's also highly long-lasting, making it an excellent choice for basements susceptible to water and activity damage. However, no matter how enticing it may seem, you should never do it yourself. Concrete Polishing Solutions specializes in epoxy floor installation and guarantees that you'll be pleased with the results. And it all starts with a free quotation. Please contact us so that we can get started.
Our Complete Services
Concrete Caulking/Waterproofing
Commercial Applications
Residential Applications
---
---
---