Concrete Driveway Contractors San Diego CA | Resurfacing & Repair
Only Concrete Polishing Solutions can help you with concrete driveway resurfacing and concrete driveway repair in San Diego. We are a family-owned business that serves the San Diego area. For your safety, we are licensed, bonded, and insured. You may be sure that you are in excellent hands because we have over 40 years of expertise in upgrading concrete surfaces. We offer services and solutions for both residential and commercial properties. Our objective is to improve the appearance and functionality of your concrete surfaces, both outside and within. Contact us to speak with resurfacing driveway contractors and other concrete polishing services in San Diego, CA.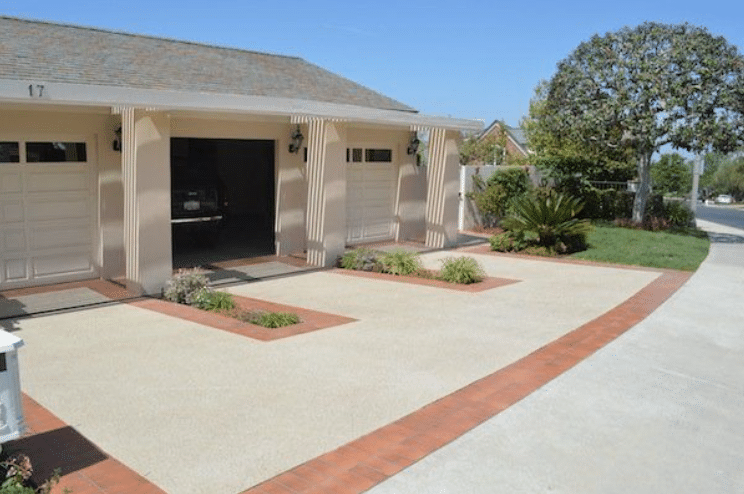 Common San Diego CA Concrete Driveways Problems and Repair Solutions
Cracks are the most typical issue that any concrete surface faces. Vehicle traffic, exposure to weather fluctuations, and old age are all common causes of cracking in a driveway. Spalling occurs when the top layer of concrete driveways breaks and becomes loose. The weak surface disintegrates, sending concrete fragments to fall to the ground. Cracks can be readily filled with a filler, especially if they are little. It's possible that wider fractures will necessitate more thorough concrete restoration. Driveway resurfacing and refinishing are two popular but low-cost concrete driveway repair San Diego methods.
Benefits of Driveway Repair, Stain, Resealing & Refinishing
There are a number of ways to get the look of a new concrete driveway in San Diego, CA. However, most of them are on the more costly side of the spectrum. Occasionally, the less expensive solutions offer greater benefits than their more expensive equivalents. The following are some of the most significant characteristics of resurfacing:
Updated Look – Looking at the same old driveway every day might grow old. Concrete staining on a driveway, for example, may help refresh the appearance of the surface very instantaneously. This is a significant aspect in increasing curb appeal.
Higher Value – A resurfaced driveway may assist raise the market value of a house, whether it is for sale or not, or if you have recently purchased a new home. Buyers want ready-to-move-in houses even more so if it is decorative and appealing.
Longevity — A durable layer of stamped concrete overlay or acrylic coating, as well as driveway resealing, can help the surface endure longer. Consider the new surface to be a very durable protective covering that extends the life of the original slab underneath it.
Quick Installation – It takes less time to resurface than it does to install other paving materials such as brick, natural stone, or pavers. It's also less intrusive than removing the old slab and replacing it with a new layer of cement.
Eco-Friendly — Retaining the existing slab reduces the carbon impact created by cement manufacturers. You will also avoid having to deal with the concrete trash that must be disposed of in a landfill.
Frequently Asked Questions
Call a San Diego California Concrete Driveway Restoration Expert! Dial  (619) 870-8308.
The reputable firm provides a wide range of concrete finishing solutions with characteristics to suit every requirement. Concrete Polishing Solutions, our concrete driveway contractors in San Diego, serve commercial and residential clients with high-quality resurfacing and sealing services that make their homes and businesses stand out.
We have over four decades of resurfacing and upgrading experience and an A+ reputation from the Better Business Bureau as a reliable concrete contractor in the region. Are you looking for "concrete layer professionals near me"? We're the best candidates for the position.
Do you want to learn more about concrete stamped driveway designs and troweled concrete finishes? Do you need a new driveway? Are you in need of a driveway repair service? We'd be delighted to talk about them with you. Do you have questions about our rates or other concrete construction services? We'll provide you with a free estimate.