Pool Deck Resurfacing San Diego Contractor | Licensed. Bonded. Insured
Many inhabitants of San Diego are enticed to spend the whole summer in or around their swimming pools by the warm weather and laid-back lifestyle.
You need to create an oasis that stimulates joy, laughing, and relaxation if you want to hold the finest parties. The way the concrete surface surrounding it looks is an important aspect of its allure.
A concrete pool deck can help with this. It is a necessary component of any home in San Diego. It is not only a pleasant and relaxing location, but it is also a significant addition to your house. With our pool decking San Diego services, you can take care of your pool decks.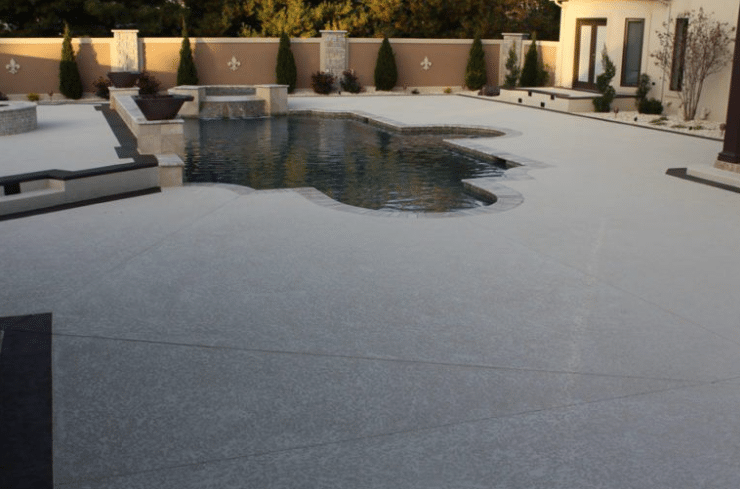 Signs that It's Time For A Concrete Pool Deck Remodeling
When your deck is damaged or discolored, it's tough to create a nice pool area or poolside refuge. Whether in the ground or above ground, a deck can crack, discolor, chip, and eventually need to be repaired. It's time for a concrete resurfacing if any of these are preventing you from enjoying or even glancing at the deck without feeling stressed or disappointed.
You have a few choices, but the pool deck resurfacing San Diego with ornamental coatings like knockdown finish and stamped overlays provides a level of excellence that no inexpensive paint can equal.
Benefits of Decorative Concrete Pool Deck Resurfacing San Diego
Coatings and overlays give the following benefits in addition to their obvious visual appeal:
Maximize Your Pool Deck
Increased usefulness and safety in the area surrounding your swimming pool. If your stamped concrete pool deck, for example, is in good shape, it will serve you better. It prevents injuries from the strewn-about damaged concrete.
Keeps Your Decks At Optimal Temperature
Knockdown finishes and Kool deck resurfacing are cooler underfoot, making it easier to stroll around barefoot on pool decks. It can keep a pool surface at a lower temperature for 30 percent longer than conventional pool deck overlays. We've got you covered if you're looking for "cool deck installers near me."
Safety Assurance
The new swimming pool flooring also has better traction and is less slippery. This feature can help to lessen the risk of slips and falls, especially on wet pool decks.
Call (619) 870 8308 for a free consultation on our stained, cool decking & stamped pool decking services!
Concrete Polishing Solutions knows how a simple pool decking renovation in San Diego can make pool time more enjoyable. The Better Business Bureau has given us the coveted A+ rating for our 40 years of outstanding concrete service in the San Diego area. The residential and business clientele we proudly serve have put their faith in us. All of your concrete pool deck problems may be solved with our skilled guidance and solutions.
Call us immediately at (619) 870 8308 for concrete deck repairs, quote forms, and more information.
Frequently Asked Questions