Concrete Polishing Solutions
Concrete Polishing Solutions is a company that specializes in concrete polishing. Any house or company would benefit from polished concrete flooring. If you need concrete polishing services in San Diego, CA, we can help you keep them looking great! Concrete Polishing Solutions is a leading commercial and residential concrete flooring company specializing in concrete grinding, polishing, sealing, and epoxy coatings. One of the most durable flooring alternatives available is our high-quality polishing system, which helps eliminate the need for upkeep. We will assist you in finding an inexpensive and visually appealing alternative for your property with various options for homes, businesses, warehouses, and industrial operations.
HERE ARE A FEW OF THE MANY RESIDENTIAL AND COMMERCIAL CONCRETE SERVICES THAT WE OFFER HERE IN SAN DIEGO:
Why us?
Concrete Polishing Solutions is a top concrete contractor in San Diego, California. As a company, we are fully bonded and insured, and we have worked on a wide range of projects in a wide range of industries. Concrete Polishing Solutions can do it all, from a small patio deck to a large commercial building. They can do it all. We use only the best materials and follow all local and national concrete rules. People who work for us pay a lot of attention to learning, training, and using proven concrete construction methods. This leads to high-quality projects that are done on time, every time.
OUR LATEST ARTICLES ON FLOOR CONTRACTING
We can help with any project, whether it's for a home, a business, or a factory. There are many different ways to use polished concrete flooring and other resinous epoxy applications. We can help you get the most out of these options. For your garages, basements, patios, restrooms, lobbies, and more, we're the best choice for you.
As a family-owned and operated Concrete Contractor in San Diego, we serve the state. We take a lot of pride in being honest and reliable, which our many clients have shown. We only use products that are good for the environment and that are also good for the people who use them. Part of our job is to teach you how to make your polished concrete and epoxy floor come to life. Many different types of flooring can be made with concrete polishing or epoxy. You can read our blog to learn more about these applications and what goes into them!
February 21, 2022
Industrial Flooring for Manufacturing Facilities In San Diego To be certified by the USDA and…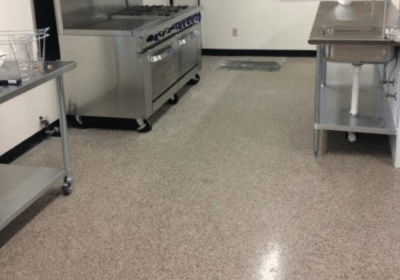 February 21, 2022
Epoxy Flooring Benefits for Commercial Kitchen Floors In San Diego The installation of industrial flooring…
February 21, 2022
How to Clean Industrial Epoxy Floors In San Diego Warehouses, walkways, roads, garages, factories, and…