Hotels Epoxy Flooring San Diego
HOTEL & HOSPITALITY FLOORING: A RISING TREND IN SEAMLESS FLOORING APPLICATIONS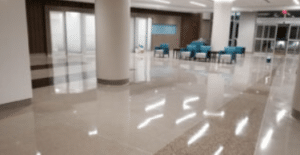 Hotel & Hospitality Flooring: A Rising Trend in Seamless Flooring Applications
Gone are the days when hotel lobbies were adorned with marble and stone. For various reasons, upmarket hotels and hospitality companies are increasingly opting for seamless flooring solutions in their facilities. If you look at the W Hotel, One Hotel, Hilton Hotel, and Ritz-Carlton hotel chains, you'll find that their entryways are constantly being renovated. Tiles are being removed, and seamless and beautiful concrete flooring solutions, such as Concrete Toppings and Overlayments, are being erected.
Moreover, hotel and hospitality organizations have started replacing their ancient quarry tile flooring systems in their kitchens, food service areas, and utility areas. With the Health Department, USDA, and FDA putting pressure on these businesses, epoxy and urethane flooring solutions remain the only viable alternative for kitchens that run 24 hours a day and adhere to strict hygienic standards.
But why are hotels spending so much money to renovate their facilities merely to change the floors?
The following are some of the advantages of concrete and epoxy flooring for hotels:
Organic And Natural Aesthetics — Seamless concrete flooring solutions are stunning because they are organic and natural in appearance. They seem to be natural, seamless granite once dyed or polished. Another advantage is that there are no grout lines, which is a feature that is attractive to the sight and makes interior designing easier.
Chemical And UV Resistance — Cleaning chemicals and regular foot traffic are unavoidable in a hotel setting. The impacts of long-term exposure to all of these compounds are integrated into concrete and epoxy flooring systems.
Abrasion Resistance — The outstanding high-wear qualities of concrete and epoxy floors aid in avoiding scratching and scraping from baggage, food carts, bell carts, and strollers.
Easy To Clean And Maintain — Keeping large places clean is challenging. On the other hand, concrete slabs become non-porous when a polished concrete and epoxy flooring system is installed. Since they absorb nothing, cleaning supplies and equipment may be readily scraped, sprayed, and squeezed off of these floors.
Moisture Resistant — Buildings constructed "slab-on-grade,", especially in the southern United States, are susceptible to moisture vapor transfer. To help against these threats, Moisture Vapor Resistant Epoxy resins can be placed.
Overall, Concrete Polishing Solutions' epoxy flooring and polished concrete solutions perfectly match hotel companies' high requirements. Any of these flooring options may be customized to complement the look and feel of our clients' establishments.
Call us to talk with one of our installation professionals and find out why Concrete Polishing Solutions is San Diego's most dependable concrete and epoxy flooring company. You'll understand why hotels like Faena, Ritz-Carlton, Hyatt, Hilton, Marriott, Best Western, and Playa Largo choose Concrete Polishing Solutions for their concrete polishing flooring needs.