▷Industrial Flooring for Manufacturing Facilities In San Diego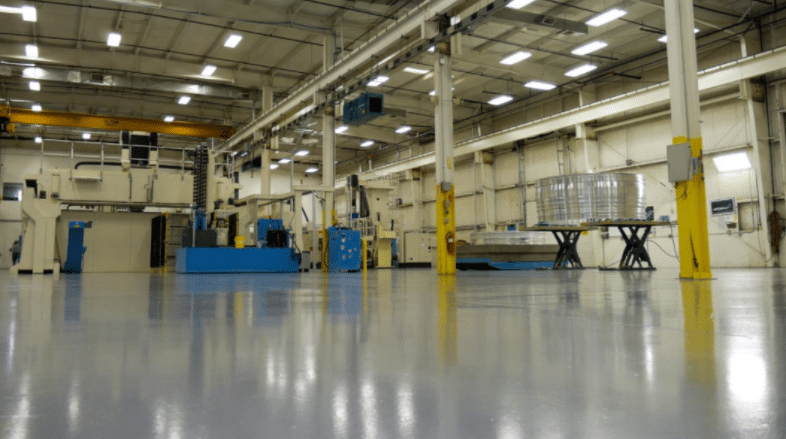 Industrial Flooring for Manufacturing Facilities In San Diego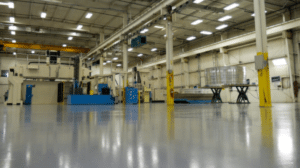 To be certified by the USDA and FDA, industrial flooring must adhere to several federal government standards. The standards are significantly higher when it comes to food and beverage facilities. The flooring must be able to withstand considerable traffic, be safe for workers, and maintain hygienic conditions for items intended for public consumption.
Because of the nature of the products that the manufacturing facilities create, the floors require a special coating to keep them clean. In addition, the flooring system must survive a wide range of conditions, including harsh chemicals, dampness, high-pressure cleaning, intense heat, abrasion, machine vibrations, and human activity.
Epoxy Flooring For Food And Beverage Manufacturing Facilities
Epoxy creates extremely durable floors, making it a popular choice for industrial flooring in most production facilities. It's well-known for its chemical resilience and ability to tolerate abrasive washing with hot water and high-pressure hosing while drying quickly. Durability, anti-slip properties, and ease of maintenance are just a few of the additional appealing features that set it apart from the competition.
Epoxies have been used in food and beverage production facilities for decades and will continue to be used in the future. They're perfect for regions where there's a lot of human and machine traffic. Because they don't slide, they're frequently used in industrial flooring for stairwells and entrances.
USDA, FDA, And NSF Compliance
The USDA, FDA, and NSF all have strict guidelines for installing food and beverage industrial flooring. As a result, you want your floor system to check all of the boxes when it comes to local and federal requirements. This can help you avoid a lot of avoidable stress and company losses.
If authorities find that you don't satisfy the necessary legislative criteria, you might be punished, shut down, or forced to recall your items due to consumer safety concerns. The following are some of the reasons epoxy is appropriate for this application:
Other Flooring Materials For Food And Beverage Plants
Aside from assisting you in passing severe regulatory inspections, the materials you pick for your flooring will significantly impact your plant's productivity. They must be long-lasting to avoid disrupting business operations owing to frequent wear and tear that may necessitate repairs and replacement.
A manufacturing plant, for example, may require floor surfaces that can withstand a variety of circumstances. This is because operations like canning, mixing, and cold and dry storage will require unique flooring conditions to perform well.
However, there are a variety of flooring materials that may be used in the food and beverage industries. They come in a variety of forms, sizes, and qualities that may necessitate expert advice to assist you in making the best choices.
When picking your materials, consider how well they can withstand chemicals, dampness, collision, thermal stress, and a variety of other demanding activities. Costs, durability, sanitary attributes, and the maintenance procedure are all factors to consider.
Epoxy outperforms most of its competitors due to its low cost and ability to endure misuse. However, several floor coverings work well in a busy production business besides epoxy flooring:
Polyureas – If your flooring is subjected to a lot of impacts and harsh use, this is the material to use. They have no odor and operate well in cold conditions. Because of their stretching properties, they are perfect for bridging surfaces.
Urethanes are simple to decorate, don't emit strong aromas during installation, and are extremely long-lasting.
Custom-formulated – Industrial flooring materials that have been specially designed for your facility may be ideal. Custom formulations are ideal since they provide customized answers to specific situations.
Flooring Sanitation Is Key
Because regulatory authorities regularly monitor flooring sanitation, it may make or break a manufacturing operation. You don't want flooring that promotes contamination and creates unhygienic circumstances that might endanger your goods' end-users. As you lay out the plant's flooring and finishes, remember to keep sanitation in mind. Choose materials that are simple to clean and impervious to moisture and chemicals, such as epoxy.
Some flooring necessitates the use of wet cleaning agents. To minimize fluid entrapment, such flooring systems must be waterproof and simple to dry. There should be no dips, fissures, or clefts in the floors that might allow water to enter. Bacteria, mildew, and mold might grow as a result of these faults, resulting in pollution.
Aesthetics Matter
Most people did not consider floor aesthetics to be a feature of industrial space in the past. However, we now recognize the importance of aesthetics because we can link it to worker productivity. An appealing manufacturing facility also influences your plant's public relations.
Using a substance like epoxy results in colorful flooring that greatly improves how effectively personnel carry out their responsibilities. This is also a way to show the public that your facility is clean and that you can be trusted to provide safe items for everyone. Choose colors that project a favorable image and correspond to your brand's characteristics if you go this path.
Employee Safety Is Critical
Employees are the ones who will engage with your flooring on a daily basis. You don't want one of them or anybody else engaged in an accident. If this happens, you'll have played a part in ruining their life, and you'll have to recompense them if there's proof that you didn't follow the rules. As a result, the flooring materials and finishes you select should ensure everyone's safety. The flooring should not be oily, slippery, or sticky in any way that might lead to an accident.
Commercial Flooring Maintenance
Epoxy has a reputation for creating great industrial flooring that is beautifully polished, eco-friendly, and easy to maintain when used by a professional. They are also easy to clean and may be used with hot pressure hosing without causing harm. They can also withstand temperature changes in a variety of situations.
Concrete Polishing Solutions
Your flooring must be able to withstand significant wear and chemical reactions while being safe for users. Without the assistance of a professional, achieving these requirements is unlikely. When it comes to selecting industrial flooring contractors, you want the finest in the business to assist you in making selections and effectively installing your floors. When it comes to epoxy flooring, Concrete Polishing Solutions has a blend of experience and skill. We've helped a lot of businesses find long-term flooring solutions, and you're the next one. Contact us today at Concrete Polishing Solutions for concrete polishing services.
Our Complete Services
Concrete Caulking/Waterproofing
Commercial Applications
Residential Applications
---
---
---