▷Concrete Floor Restoration In San Diego
Concrete Floor Restoration In San Diego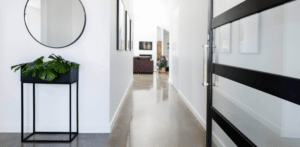 We are true craftsmen of our trade when it comes to concrete floor restoration. We feel that the original is frequently the finest, and we are happy to have been one of the first firms in San Diego to produce polished concrete flooring. No matter what sort of structure or room you have, our professional services aim to improve the aesthetic and performance of your concrete. With our specialized equipment, we can assist with the installation or restoration of concrete, allowing us to provide cost-effective solutions to all of our customers. 
Concrete grinding's ultimate purpose is to create a level, even surface. We achieve this by smoothing out the concrete using tools, which improves the appearance of the concrete and removes any hazardous or ugly defects from the flooring. You might be wondering if you need our services for concrete floor restoration. Concrete Polishing Solutions can help if your concrete floors aren't perfectly even, aren't aesthetically pleasing, or have apparent faults or fissures. 
Here are a few reasons why you would want to use this service: 
There are three more reasons to restore your concrete floors: 
Sustainability 
Restoration is a long-term solution that avoids the use of a large amount of fresh materials. Once the concrete has been sanded and polished, it appears to be fully refined and does not require replacement, which wastes resources. 
Simple To Maintain 
Concrete is low-maintenance and only needs to be mopped with soapy water once a week. Unlike wooden floors or carpet, a flawlessly smooth surface leaves less area for dust and filth to collect. 
Longevity
A polished and well-maintained concrete floor can be anticipated to last a very long time. 
Conclusion
Concrete may take on color and a lustrous sheen when polished. Concrete is guaranteed to become your new favorite flooring surface when combined with the aforementioned advantages. If you require any additional information or guidance, please contact us as soon as possible to explore which solution will best suit your needs. Concrete Polishing Solutions will be delighted to assist you in comprehending the available possibilities.
Our Complete Services
Concrete Caulking/Waterproofing
Commercial Applications
Residential Applications
---
---
---